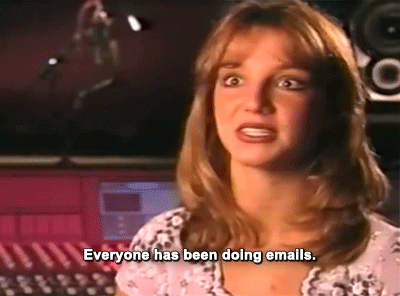 The "Promotions" tab of my personal Gmail account is completely out of control. I've done things to make it chill out, like actually unsubscribe from the sale alerts that seem to come in by the minute, and I've even been using Unroll.me for years; but I just can't keep up and end up selecting-all and trashing them.
I do like newsletters/round-ups, though, and I tend to open those more often because someone else did the work of curating the content for me. Some of newsletters I like include PopSugar Fitness, PureWow, Real Simple, Runner's World, Medium Daily Digest, and Kate Cutruzzula's Brass Ring Daily).
But if I'm really being honest with myself (and you), I don't usually read the newsletters, either. But I do skim the headlines. And boy, are they weird/telling/damaging/did I say weird? A sampling:
New Super-Upsetting Survey Reveals Millennials No Longer Take Lunch Breaks – But then when do they eat their avocado toast?!
Liz Moody's Healthy Chocolate Chip Cookie Recipe – Chocolate chip cookies should not BE healthy. They're treats. That's the point.
My Fiancé Wants to Take Out a Small Loan for Our Wedding. Is This a Bad Idea? – Yes.
10 Things You Really Shouldn't Refrigerate
Lunch Breaks Are the Secret to Health and Happiness at Work – I guess articles about lunch breaks are hot right now?
I Washed My Face with Seltzer and THIS Happened
Florida Man Ends Run Covered in Gnats. Here's How You Can Avoid the Same Fate
Introverted Freelancer? How to Avoid Becoming a Recluse
[Note: I haven't even read the articles linked above. The inclusion of them in this post does not constitute an endorsement. I'm just making a point.] What kind of person am I/do you think I am based on this content? What do the headlines in your inbox look like? And are you proud of them?
What other newsletters should I get? Anything about being a badass who doesn't need more stuff to feel fulfilled or other empowering themes?