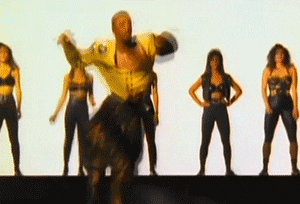 When I was in high school and serious about dancing, I took a bunch of master classes. While the instructors' choreography was amazing (and challenging!), and their personal stories were inspiring, there's one piece of advice that I've always remembered: Find an outfit that makes you feel fabulous and wear it to every class. When you're dancing, you don't have the time or energy (mental or physical) to worry about your clothes.
I don't dance anymore (not in a studio, at least—I still get down at parties), but I do run. And I recently realized that the advice from that master class applies to my running gear, too. Of course, it's not as simple if you run outdoors and have weather and the elements to deal with, but the concept is the same: find the pieces that make you feel fabulous.
If I'm feeling self-conscious about how I look or am distracted by my shorts riding up, I can't let loose and chat with my run club friends; I can't clear my head or work through any challenges I'm facing; and I can't focus on my form or chase a personal best on a Strava segment.
Coming to this realization meant that it was time to build a capsule wardrobe for workouts. I had to get rid of the gear that didn't fit well or feel good and fill my closet with gear that made me feel like the athlete that I am. I said, "see ya!" to those thin, shiny race shirts that cling to every roll. Now, I wear running shirts that feel like my favorite cotton tees and only get better with wear.
When it comes to bottoms, I will settle for nothing less than leggings or shorts with a high waist and pockets. Gone are the days when I would come home and Google "running suspenders" after a frustrating run spent tugging at my waistband. And where else am I supposed to stash my credit card for my post-run treat of beer or fro-yo?
And don't even get me started on the importance of a comfortable, supportive sports bra. For me, it's one without wires that doesn't require acrobatics to get in or out of.
It can take some trial and error to find the right fabrics, cuts, and brands that treat you right, and I know that running gear isn't cheap. See if you can take a friend's gear for a spin, or try getting secondhand pieces that are in good shape from thrift stores or sites like ThredUp and PoshMark. Or consider hosting a clothing swap and encourage folks to bring workout gear…because one person's trash is another person's go-to race outfit.
The investment of time, effort, and money in a workout wardrobe that makes you feel fabulous is completely worth it. The freedom from pinching, pulling, rolling, twisting, digging, and generally worrying about how you look while you exercise is priceless.