One of the many things I love about where I work is that there really is a demonstrated emphasis on work/life balance and self care. Case in point: 4th of July week. In honor of our organizational birthday, summertime, the end of one fiscal year and the beginning of another, and the 4th, we have what we call "Quiet Week." The purpose of Quiet Week is to reflect and recharge. While many folks take vacation and are truly out of the office, those that stick around are encouraged to cancel meetings, work abbreviated hours, and/ work remotely as much as possible. (We have one other Quiet Week, which is the last week of the calendar year.)
For this year's summertime Quiet Week, I took one day off, went into the office one day, and worked remotely two days. My Quiet Week to-do list included things that kept getting de-prioritized and pushed to a time when deadlines wouldn't be looming and fires wouldn't be burning.
On the list? A work area makeover. I recently moved to a new office at work, but there wasn't much to be done there. I did put up some colorful art, though.
It was really my home office that needed some TLC. It was messy, used space poorly, and generally made me feel blah and unmotivated. It had become purgatory for the household items that I liked and didn't want to get rid of, but also didn't have a place for.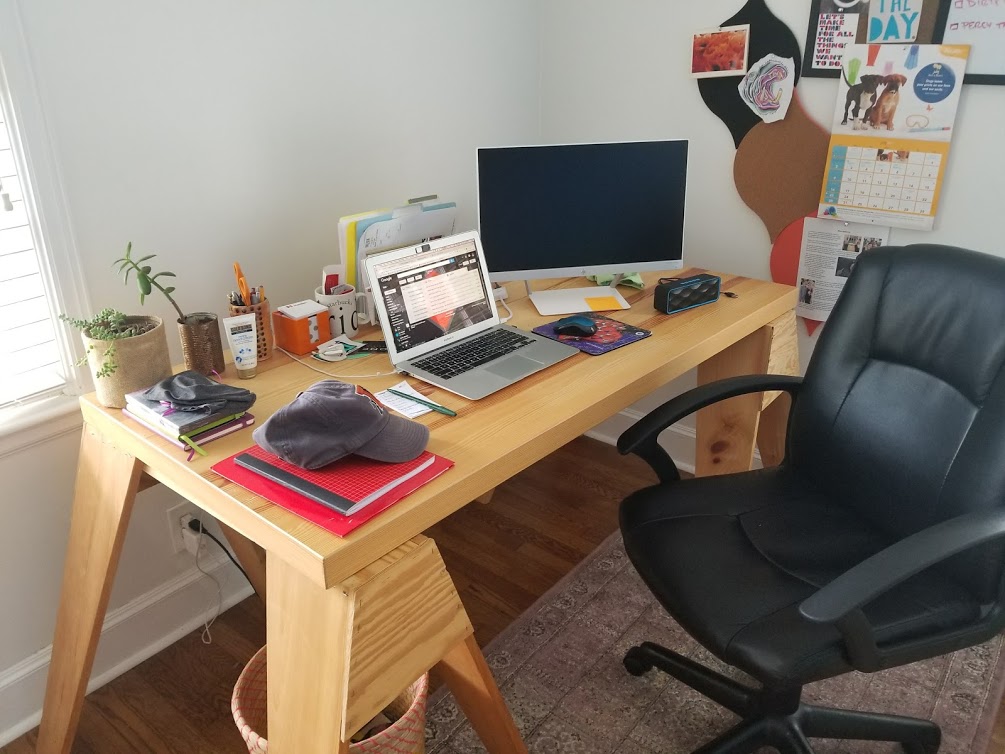 As much as I loved the desk-on-sawhorses look, it was time to grow up. (What really made up my mind was cutting my knee on a sawhorse's raw edge just minutes before going live on a webinar I was hosting.) You know that day off I mentioned? I went Charlotte to, among other things, pick up some office accoutrements from IKEA.
I also recently won an awesome print of Santa Clara and Merced Counties in California on EVERYTHING BUT THE HOUSE and was itching to put it up.
So on one of my quiet work from home days, I made some time to clean up my office, put my desk together (including a little chest of drawers that doubles as desk legs), and hang up my new print.

Not a huge difference, but I already feel so much lighter and inspired to work! And I really have to credit Quiet Week for the opportunity to do it. Without having the breathing room to work on non-urgent matters, this sort of thing never would have gotten accomplished.